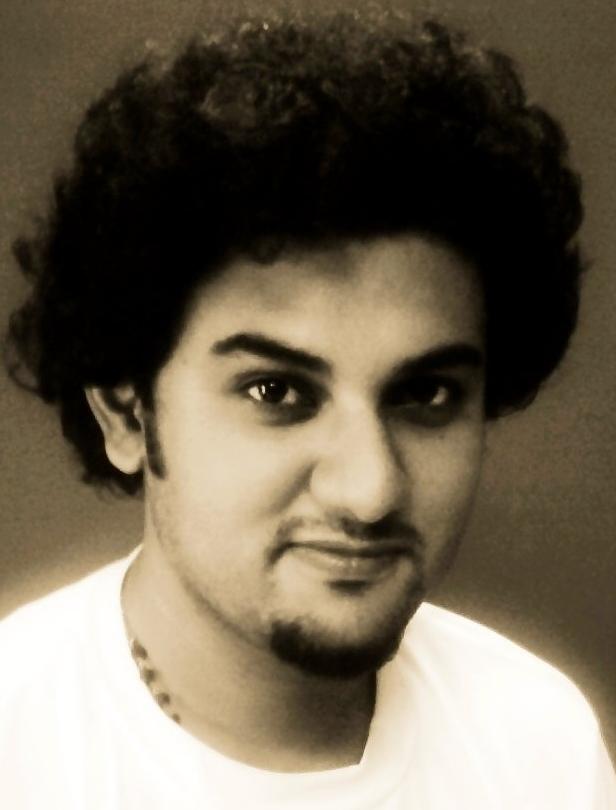 Sonnet Mondal - India
From the Bow of Battle
Sitting with backs to each other
two worlds converge in the borderline
of an estuary with the ocean of skies.
Thinking as a lazy habit fails to decide
the course of waters ready to flow
like sprinters waiting for gun fire.
A haze in the western sky blocks
vision which returns like wounded soldiers
from an ongoing battle.
From the swelling land nickel plated rain
drops jump to life and fall to shadows
in the half eaten darkness
still fighting with watered-down rays.
Routine of 21st Century
Sounds of the air cooler as an industry
beating the falling beats of rain pulls me to bed
disfigures my pillow and hairs.
A strong inhaling breath
hangs me midway between sleep and dreams.
Window panes clap at mermaids
leaping in and out of water filled pools...
Magic of outside ruled by the snoring cooler
is a daily decorum and alarm
of a corporate life.
Illusive Stones
Shining stones, unturned for centuries
twists fixed parts
heads out of the waters to a malformed world.
Waterborne wafts,
same as the time without civilizations;
a respite for the unspoken lives
returning from hibernation.
Stuck in the roots and underground currents,
feetless stones budge
devoid of significance.
Bikers and drivers race beside the sturdy highway-
eyes and head fixed in fashion
minds gripped in hard beating headphones.
A bellowing cow shaking its horns,
restless on its feet
breaks the vision of a tourist
the witness to the picture driven story
as buffalos move out of the ancient stones
and trembling waters.
The Smell of Past
Cancerous smoke
cradling in the lap of fluids
leaves legacy in crippled skins.
Hunter boots lying in the corner-
Socks scattered
in broken webs of spider-
Regret trying to dig through
the heap of three scores
ends up with soil and mud-
Somewhere in the mixture a smell
of the incurable past.
Being Alone
And what was that thin squeal about? I remember
it beside my afternoon nap;
perhaps the same reverbs(in mind)
and it designs earthly objects moving in unearthly stance.
Calendar rubbing against the cracked plasters
and steadily snoring table fan offers bizarre visions.
just a result of those vampire films (on the idiot box)?
This mental barrenness is lending the night an option (to overpower)
and those irrational film makers a success.
Let me have a try with these earphones; at least rock music
wouldn't squeal in an alien way.
***
Sonnet Mondal is an award winning poet and the founder of The Enchanting Verses Literary Review. He has authored eight collections of poetry and was bestowed Poet Laureate from Bombadil Publishing, Sweden in 2009. He was inducted in the prestigious Significant Achievements Plaque at the museum of Bengal Engineering and Science University, Shibpur in 2011, awarded The Ascacra International Poetry award in 2011, nominated for Pushcart Prize in 2011 and was featured as one of the Famous Five of Bengali youths by India Today magazine in 2010. He has also been featured as An Achiever 2010 in The Herald of India, in Eview Points of Rockfordkingsley, U.S.A., in the 'Tea with George' March feature of Desperanto Publications Ltd., 2012 and Writer of The Month June 2012 at The Spark Magazine. His works have appeared in several international literary publications including The Stremez (Supported by The Ministry of Culture, Macedonia), The Sheepshead Review (University of Wisconsin, Green Bay), The Penguin Review (Youngstown State University), Two Thirds North (Stockholm University), California State Poetry Quarterly (California State Poetry Society), Nth Position, The Journal (Poetry Society of India) , Holler (Princeton Poetry Project) and Friction Magazine (New Castle University & New Castle Centre of Literary Arts) to name a few. Sonnet is the pioneer of the 21 line Fusion Sonnet form of Poetry. His works have translated in Macedonian, Italian, Albanian, Urdu, Arabic, Hindi, Telugu and Bengali. At present he is the Editor of Best Poems Encyclopedia- Indian division, Poetry Editor of The Abandoned Towers Magazine, Guest Editor at Virgogray Press, US.A. and the honorary Sub Secretary General of Poetas Del Mundo, Chile. Most recently, he has been enlisted as a National Record Holder as "The First Indian to write a new type of Sonnet Poetry" at the Indian Book of Records.
Details of his works can be found at www.sonnetmondal.com
Comments 发表评论 Commentaires تعليقات