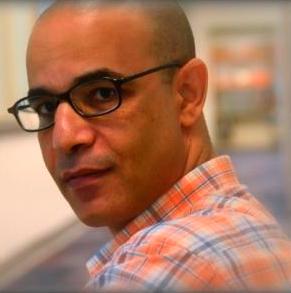 Sayed Gouda Honoured with The Enchanting Poet Award
Nadwah - 22 December 2012
Sayed Gouda was honoured with The Enchanting Poet Award in November 2012. The Enchanting Poet Award is an award given by the quarterly poetry magazine The Enchanting Verses Literary Reviews, which was launched in 2008 under the name of The Enchanting Verses International with the aim to publish quality poetry and works related to poetry. Ever since it was launched in 2008, The Enchanting Verses Literary Reviews was recognised as one of the best poetry magazines of the world. The Enchanting Verses has some of the most eminent names in the realms of contemporary poetry in the list of its contributors.
Apart from its scheduled quarterly issues, The Enchanting Verses publishes translation through its international Translation Project, research series on the life and work of poets, exhibits paintings through its Visual Poetry Project and presents the prestigious Enchanting Poet Title/Award to one poet per issue for his contributions in the field of poetry over the years.'The Enchanting Poet' Award of Honour is the highest honour which is officially issued by The Enchanting Verses Literary Review. One established poet is given this certification per issue. He/she should be a book published as well as magazine published poet. The poet is chosen from nominees that are put up before the editorial board of this journal.
www.theenchantingverses.org/index.html
www.theenchantingverses.org/2012.html
About Sayed Gouda:
Sayed Gouda was born in Cairo and educated in Egypt and China, majoring in Chinese. He is a published poet, novelist, and translator. He is the author of three books of poetry in Arabic and one novel in English. His works and translations have appeared in Arabic, English, Chinese, French, German, Spanish, Macedonian, Uzbek, and Mongolian.
Gouda is the editor of a literary website called
Nadwah
in five languages: Arabic, Chinese, English, French, and German (www.arabicnadwah.com). He has organized a monthly
literary salon
in Hong Kong since April 2004.
He has participated in many international poetry festivals and academic conferences around the world.
Gouda was
honoured
the Enchanting Poet Award in December 2012.
At present, he is a PhD candidate at City University of Hong Kong. His dissertation is a comparative study of the revival of traditional forms in contemporary poetry. Other research interests include comparative poetics, comparative literature, and prosody studies.
Comments 发表评论 Commentaires تعليقات
1-
Mohamed Fahmy
2012-12-23 00:17:29
Congratulations, keep it up.