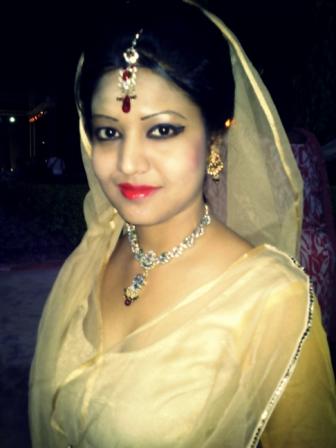 Sangeeta Majumder: Kathak is a Doctrine of Life!
Nadwah – Hong Kong - 12 April 2015
Born in a family of academicians and businessmen in the City of Joy, Kolkata, Sangeeta Majumder is the first in her family to choose kathak dance her career. Exceptionally talented, Majumder is presently practicing under the guidance of some of India's legendary kathak masters like Pandit Deepak Maharaj and Pandit Ram Mohan Maharaj with a First Class Master Degree holder in Kathak Dance from Punjabi University, Patiala and a diploma with distinction in kathak from Chandigarh University. On top of this artistic background, this multi-faceted young dancer also holds a Master Degree in English from the University of Calcutta.
As Martha Graham once said, 'Dance is the hidden language of the soul' ― this passionate kathak dancer casts a charming spell by depicting the soulful language with her extremely beautiful facial expression and graceful body movements of Lucknow Gharana. Her vibrant style of dancing illustrates a promising dancer of this gharana with the blessings of her gurus and audiences in a very small span of time. The ability to move effortlessly from one character to another in split of seconds, no doubt, has helped her in winning over the applauses of the audiences.
Majumder's deep passion, commitment, and awareness towards society enhanced her to establish 'STRINGS N STEPS'--a NGO and a cultural group in New Delhi, which promotes and teaches children music and dance, and makes them be aware of art, culture, and the strong heritage of India. As a General Secretary of Strings N Steps, Sangeeta Majumder organises the annual STRINGS N STEPS FESTIVAL in New Delhi, which gives a platform to the little budding artists to perform with some established stars of Indian classical art. Strings N Steps is the one and only musical group in the world which is an exclusive venture presenting kathak and Hawaiian guitar together on stage to complement each other. This is an amalgamation of Hindustani classical dance supplemented by Western instrument playing Hindustani Raga by the famous Indian musician Shri Neel Ranjan Mukherjee, a prime disciple of the legendary Sitar maestro Padmabhushan Pandit Debu Chaudhuri, and the internationally acclaimed Tabla Wizard Ustad Akram Khan, supported by other instruments played by musicians of international repute. Majumder aims for carrying on her research work on Indian classical music and dance in this era of globalization. Another remarkable work of her performances is Kathak-Hawaiian Guitar-Vocal trio named Sangam, which has been performed perhaps for first time in India.
On the other hand, this young dancer organizes different kinds of charitable cultural events in different parts of India to popularize traditional music and dance amongst the masses in her own way by sponsoring the disadvantaged artists with grants. She has organised this kind of programs in Jharkhand in July 2013, in Kathmandu, Nepal (2013), West Bengal in Jan 2014, with a financial support from 'Strings N Steps'.
Sangeeta Majumder has conducted workshops in different leading schools of India like Delhi Public School, DAV Public School (organised by Sahitya Kala Parishad, Government of National Capital Territory of Delhi) , Pragati Public School, Navyug School, New Delhi to name a few. Her choreography for Bani Vidya Mandir won the award for the performance in All Bengal Inter School Competition, organised by West Bengal Government '07. She had got privilege to conduct workshop with Vidushi Mamta Maharaj in Punjab Kala Bhawan, Chandigarh. Majumder has assisted Pandit Ram Mohan Maharaj in the choreography for Republic Day Parade in front of the former President of India Smt. Pratibha Devi Singh Patil and other distinguished guests in 2011.
Recently, Sangeeta Majumder has been awarded with 'Roll of Honour' from Government College for Girls, Punjabi University, Patiala, Punjab '15. She has been felicitated by Padma Bhushan Awardee Pandit Debu Chaudhuri in 'Ustad Mushtaq Ali Khan Festival '14. She is also the recipient of the very prestigious Award of Uttar Pradesh Sangeet Natak Academy Yuva Puraskar in the Competition in Kathak for securing first position, '13. She has been honoured to receive the felicitation from Padma Vibhushan Awardee Pandit Birju Maharaj in the Graduation Ceremony of Kalashram for securing second position '12. She has held the First position in Kathak from Sur-O-Taal, Pracheen Kala Kendra '07. Recognition and the Title 'Nritya Gaurav' and Pride of Kolkata were given to her by Award Council of India, Lucknow in 2012. She has also received National recognition "Meera Award" in 2009 for the 'Excellence in Kathak dance' from Agra, Uttarpradesh. She has performed for National Television Channel Doordarshan , New Delhi and Kolkata in various events. Majumder has been acknowledged for her spirited movements in festivals like World Dance Day, Festival organised by Kalashram & ICCR, New Delhi, Patna Mahotsav , Vasant Utsav, Holi Utsav, Ballet Festival by Sriram Bharatiya Kala Kendra, New Delhi, Noida Shilpotsav, Uttar Pradesh. She has performed for many reputed organisation, Universities and performing institutions in different cities of Punjab, Haryana, West Bengal, Andhra Pradesh in India and in Dubai, Sharjah (United Arab Emirates), Kathmandu (Nepal), Dhaka (Bangladesh). Performance for Indian Council For Cultural Relations Bhopal Chapter and Bhubaneshwar Chapter, for Navarasam, Culicut, Kerala in association with Ministry of Culture and Sangeet Natak Academy. In 2013, she has been appointed as the online and visiting Kathak faculty member of Saaz-O-Awaz, Academy of Indian Music, Toronto, Canada. This year, Sangeeta Majumder is invited to Buenos Aires, Argentina to conduct workshops and give performances. She is also fortunate to be invited to perform and represent India as Cultural Ambassador in India-Maldives Friendship Festival, FAIM in Male, Maldives.
Sangeeta Majumder is currently running a music, dance and general education school in Kolkata named Kalasangam and she teaches Kathak to many students in India as well as abroad. Her pleasant mind and personality reflect in her dance presentation on stage and completes her as one of the most sparkling Kathakas for her solo performances. Her decorative performances made her as a role model to the younger students of her genre. She is a regular faculty of Kathak Dance in UMAK Institute for Performing Arts (Institute of Padma Bhushan Pandit Debu Chaudhri). Recently she was interviewed by All India Radio, National channel titled "Stri Shakti" and "Mulakatein" for her achievements. She has been featured in Hindustan Times, The Telegraph, The Statesman, Dainik Jagran and other leading newspapers along with some of online web magazines.
Not only does Sangeeta Majumder practice her Kathak dance but she also has a special interest to learn Indian classical music. She has learnt vocal under the guidance of the renowned guru Charanjit Soni in Shriram Bharatiya Kala Kendra. Majumder manifested her versatility as a commercial model and TV anchor. 'Let us read, and let us dance; these two amusements will never do any harm to the world', this words by Voltaire inspires her greatly. Sangeeta Majumder has also learnt Bharatnatyam, kathakali, Manipuri these other classical dance forms along with Salsa, waltz, jazz and many more to acquire knowledge and to keep herself up-to-date.
In her own words, 'Artists should be the virtuous soul who will be dedicating themselves to cultivate new life in the field of music and society.
'Kathak needs lots of sacrifices, hard work, and pain too. Kathak is not just a North Indian Classical Dance form; it's a doctrine of life!', says Sangeela Majumder.
Comments 发表评论 Commentaires تعليقات